Delicious choices are always on the menu.
Experience the finest senior living dining in Northbrook, IL.
At Covenant Living of Northbrook, we know that flexibility and variety are equally important to you. That's why we take great care in giving you options and letting you decide what's best for you. We offer three monthly meal plan options—15, 20 or 30—as well as flexible dining times that fit around your schedule. The ever-changing menu selections ensure not only freshness, but that you'll never grow tired of what we have to offer. Our executive chef and seasoned, professional culinary team create daily specials in addition to our weekly lunch and dinner menus. Whatever you select, you can be sure it is as nutritious as it is delicious!
Sit down to a feast with friends in the spacious dining room. Feeling less formal? Stop by our bistro for more of a diner experience—including expanded hours and a more extensive menu to suit your cravings. You can even request your meal to-go and dine wherever you please—at home or outdoors! Alternate menus are provided as part of our commitment to satisfying and healthful dining. You won't find finer dining in the Northbrook, IL, area!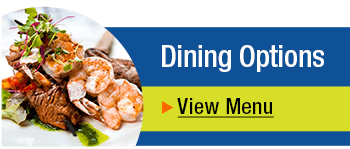 For more information, call (877) 496-2617 or click here to request more information.